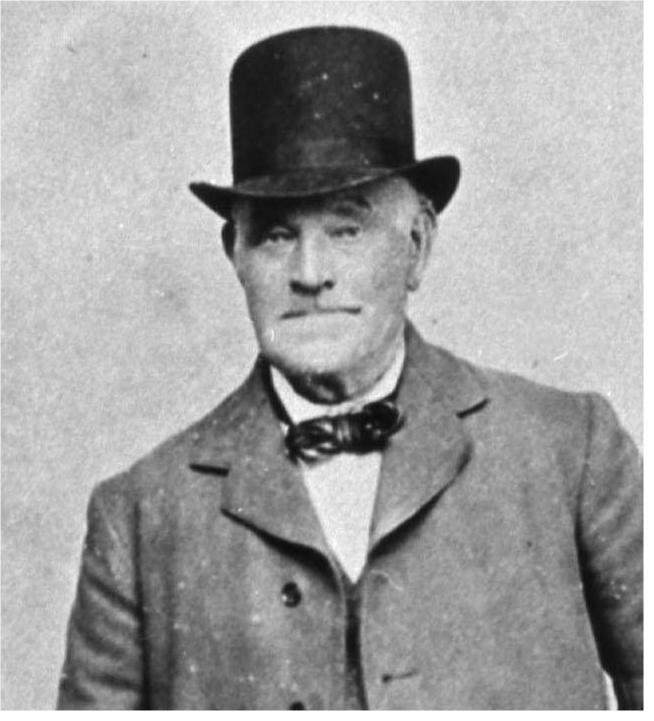 1.4 JOHN COONEY (1825- ?) Pictured at right at about 60 years of age, John was the brother of Father Edward and Philip, and uncle of John Patrick who founded the Rhode Island branch of the family. John remained in Ireland, survived the Great Famine, and founded a dynasty of his own. His grandchildren would be active in Ireland during the rising and leaders in war and in the peace which followed. His great-grandchildren would become prominent in Irish politics, medicine, law and commerce, and his descendants are themselves scattered around the world as well as in Ireland. John married Mary O'Rourke and had four sons, Edward, John, Fr. Mark and Fr. Patrick , and possibly other children as well. The family of his wife Mary also had a farm and a mill in Kilshrulie. Her mother Betsy O'Rourke instructed her children to always give part of their meal to the hungry and to never turn anyone away. This page is dedicated to John and Mary and their family, and will be updated as more information becomes known.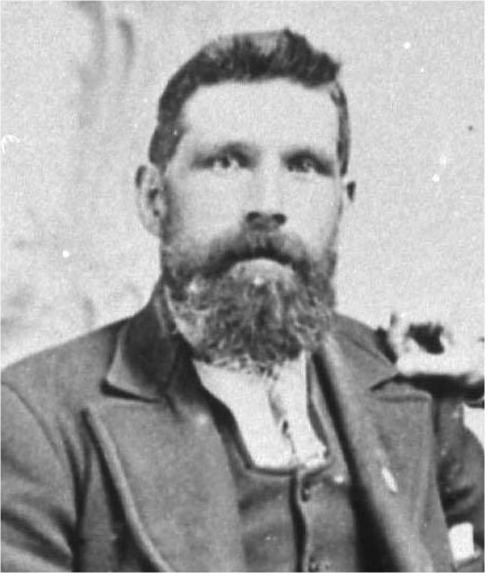 1.4.1 EDWARD COONEY (1853- ) Son of John and Mary (O'Rourke) Cooney (1.4). Edward worked Cairn Hill and eventually took over the homestead from his father. He married (E. Sheridan?) and raised a family there in Drumlish. His children, who included Patrick ("Uncle Pat"), Josephine and Kathleen, and probably others, were born and raised at Cairn Hill. His son Patrick went to America, but returned to Ireland and the farm and resided there until his death in the 1980s. For more on Cairn Hill,
click here
.
.............1.4.1.1 JOSEPHINE COONEY Daughter of Edward Cooney (1.4.1). She married Mr. Manning, and had a son, Sean. It was Sean and his wife Winnie Manning who took care of Uncle Pat at Cornhill.
.........................1.4.1.1.1 Sean Manning. He and his wife Winnie (Hanify) Cooney took care of Uncle Pat who was able to live out his live in the Cooney homestead.

.............1.4.1.2 PATRICK COONEY (1894? ) Son of Edward Cooney (1.4.1). "Uncle Pat" was the last Cooney to live on and work the farm at Cornhill. He went to America as a young man, but returned to Ireland and the farming life at Cornhill. He was looked after in his last years by his nephew Sean Manning and his wife Winnie. Uncle Pat died in the early 1980's.

.............1.4.1.3 KATHLEEN COONEY (1895? )Another daughter of Edward Cooney (1.4.1). Kate, or Kathleen as she was called, never married, and entered the convent, and was known as Sister Josephine Xavier.
.............1.4.1.4 OTHER CHILDREN of Edward? Killoe parish records show baptisms of children of Edward and E. (Sheridan) Cooney as Mary (b. 1885), John (b. 1888), Mark (b. 1890), Margaret (b. 1892), Patrick (b. 1894), Kate (b. 1985), Brigid (b. 1900), and Margaret (b. 1908). These children may have been those of Edward Cooney, son of John and Mary (O'Rourke) Cooney, and his wife.

1.4.2 JOHN COONEY (1855- ) Son of John and Mary (O'Rourke) Cooney (1.4). He went to America and worked on the building of the railways. The story is that he sent money home to his father with which to buy a farm. But as the elder Cooney looked for land for his son's farm, people kept asking him for money for the fare to America, and he couldn't say no. Eventually the money ran out and John had to work a little longer on the railroad to raise more money for the farm. On his return to Ireland, John married Bridgette Loretto Meehan and bought a farm at Gurteen, Killashee, near Longford. John and Bridgette
John and Bridgette (Meehan) Cooney Family, ca 1908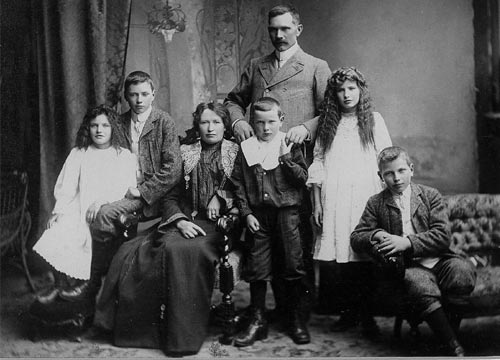 lft to rt; Molly, John, Bridgette (Meehan) Cooney, Mark, John Cooney, Alice, Ned
raised 5 children - Mark, Edward, John, Alice and Molly. The photo above shows the family, in around 1908. John and Bridget were supporters of the IRA in the Revolutionary period of 1916-1921. They often attended banquets in Longford at which they entertained friends actively sympathetic to the revolutionary cause. According to "The Sean MacEoin Story" (by Padraic O'Farrell) Alice Cooney first observed her future husband Sean MacEoin at such a function, and was impressed when, in response to demands that he speak at a public function, he replied that he wanted "fighting and not talking". Alice and her sister Molly were members of Cumann na mBan, a kind of "ladies auxiliary" of the IRA, who would visit in prison and bring food and letters. Her brothers John, Edward and Mark were all directly and actively involved in Longford's struggle, under the leadership of Sean. John and Bridget's Gurteenboy farm home was later to be the site of the wedding of their daughter Alice to General MacEoin. Click on the "Historic Wedding in 1922" page in the left margin for more information on the wedding of Alice and Sean.
For more information on John and Bridget's family, click here or in the left column.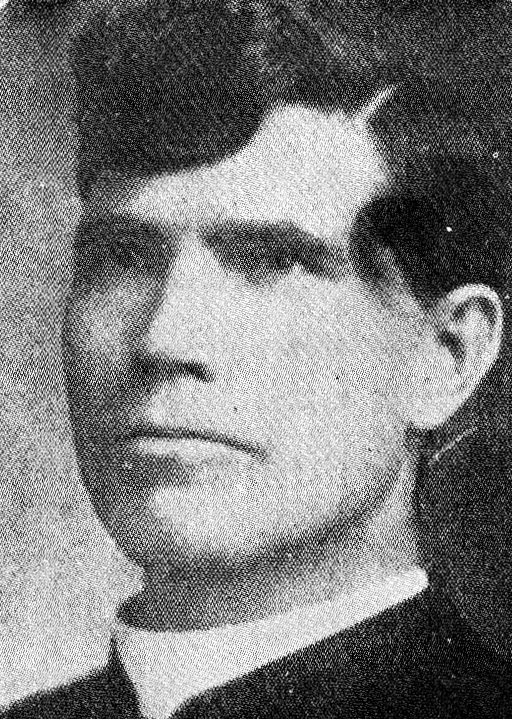 Rev, Mark Cooney, circa 1890
1.4.3 MARK COONEY (1859-1909) Son of John and Mary (O'Rourke) Cooney (1.4). He was educated at Moyne Latin School and St. Patrick's College in Carlow, where he was ordained on May 19, 1883 for Dubuque, Iowa at the age of 24. Fr. Mark came to America that same year and his first appointment was at Farley, Iowa. In 1883 he taught at St. Joseph's College (now Loras College) for one year and was then named President of the College.
Click here for more on Loras College today
. After ten years of successful effort in building the college, in 1894 he took a sabbatical assignment to the mission churches of St. Patrick and St. Mary in the Iowa towns of Nevada and Colo, respectively. He returned in 1895 renewed and refreshed, and was appointed Pastor of St. Joseph's, Waterloo, Iowa on November 4, 1895 where his work was crowned with success from the very beginning. He built the present brick church in 1901 and a home for the Sisters of Charity teaching at Our Lady of Victory Academy. The other structure built by Father Cooney is the present rectory. Unfortunately he was never to live in it. He died October 27, 1909, aged 50 years. He is buried in Calvary Cemetery, Waterloo. For more on Fr. Mark,
click here
or on his name in the left margin. For more on Moyne Latin School and Irish "hedge schools",
click here
.
Rev. Patrick Cooney, circa 1892
1.4.4 PATRICK COONEY (1862- 1900) Son of John and Mary (O'Rourke) Cooney (1.4). Like his brother Fr. Mark, he was educated at Moyne Latin School and St. Patrick's College Carlow where he was ordained in 1891 for the diocese of Dubuque, Iowa. Fr. Pat was assigned in 1892 to St. Agnes Parish and St. Kieran's in Plymouth Rock, Iowa, and continued in pastoral work there until his sudden illness and untimely death in 1900. The story is told by his niece Molly that he dove into the water trying to save a man's life, but lost his own to pneumonia which ensued. Fr. Pat is buried in Calvary Cemetery in Waterloo, Iowa. For more on Fr. Pat,
click here
or on his name in the left margin. Fr. Pat and Fr. Mark, with their uncle Fr. Edward, are still well remembered and celebrated priests today. They were all graduates of the famous Moyne Latin School in County Longford, which prepared boys who, after further studies and ordination, would minister as priests to the Irish diaspora to the ends of the earth, so that Longford was referred to as the "levitical district" of Ireland.
Click here
for more about Moyne
.
KILLOE PARISH GRAVEYARD. Below is a recent view of the graveyard for the Catholic parish church of Killoe, in Drumlish, Ireland. The massive granite marker in the center is that of the gravesite of John and Mary Cooney, parents of Father Edward, and our great great great (+) grandparents. The marker, of course, is the famous one given by Father Edward from America to mark his parents' grave. To the right is Kathleen (Cooney) Wall with her sisters Marion and Bernadette inspecting another Cooney grave marker, and assisted by Gerard Cooney.