AT THE RECEPTION
After the wedding at St. Mel's, family and guests posed for this picture at the farm of John and Bridget Cooney in Gurteenboy, County Longford. Witnesses included Michael Collins and Arthur Griffith, and the John and Bridget Cooney family including Maj. Ned Cooney, John Cooney, Dr. Mark Cooney and Molly Cooney (soon to become Sr. Mary Felicitas), sister and brothers of the bride. Both Collins and Griffith would be dead a few weeks after this photo, Collins by assassination, Griffith from natural causes.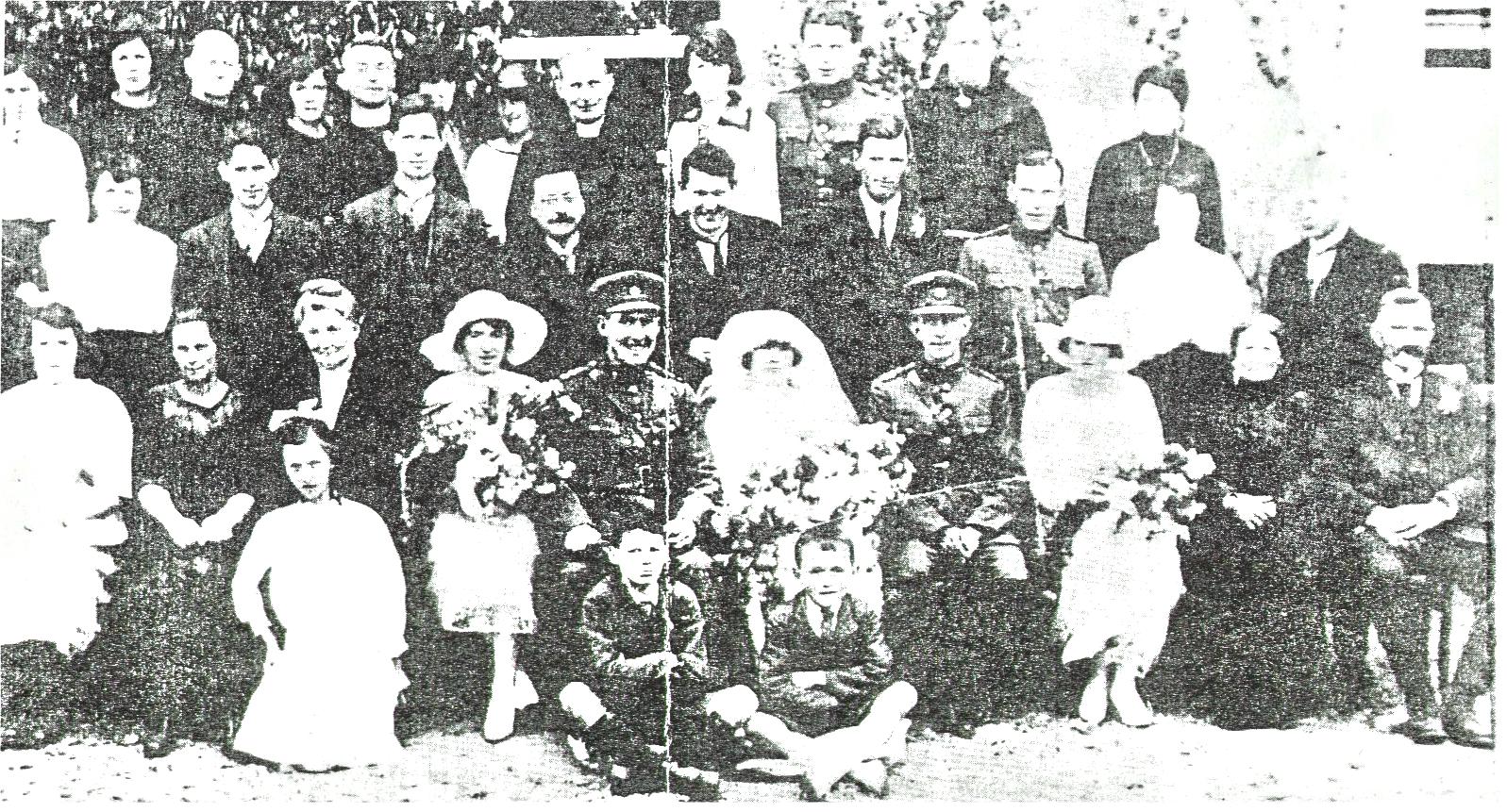 Outside the hall-door of the Cooney home at the wedding service of General Sean MacEoin and Alice Cooney are as follows:
Front row from left: Kathleen McKeon (Trappe), Jack Doyle and Gregory Burke. Second row, seated: Molly McKeon (Tynan), Helena McKeon (Donohoe), Mrs. Catherine McKeon, mother of the groom, May Moore (later Mrs. Farrell, Dunbeggan), bridesmaid, the groom and the bride, General Eoin ODuffy (Founder of the Garda Siochana and the 1st Commissioner), bestman, Molly Cooney (later Sr. Mary Felicitas), bridesmaid, Mrs. Bridget Cooney, mother of the bride, and John Cooney, the brides father. Third row: Joe Murray, uncle of the bride; Mrs. Murray, Michael and Andrew McKeon, brothers of the groom, Arthur Griffith, Michael Collins, John and Dr. Mark Cooney, brothers of the bride, Mrs. Doyle, aunt of the bride, and Michael Doyle. Back row: Mrs. McHugh, Laurie Meehan, Father Christopher, OFM, Athlone, Mollie Meehan, Canon Crowe, Kay Meehan, Maura Connolly, sister of Sean Connolly, Fr. Peter Conneffery, Alice Meehan, Major Edward Cooney, brother of the bride, Fr. Barnabas, OFM, Athlone, and Kath Brady, aunt of the bride.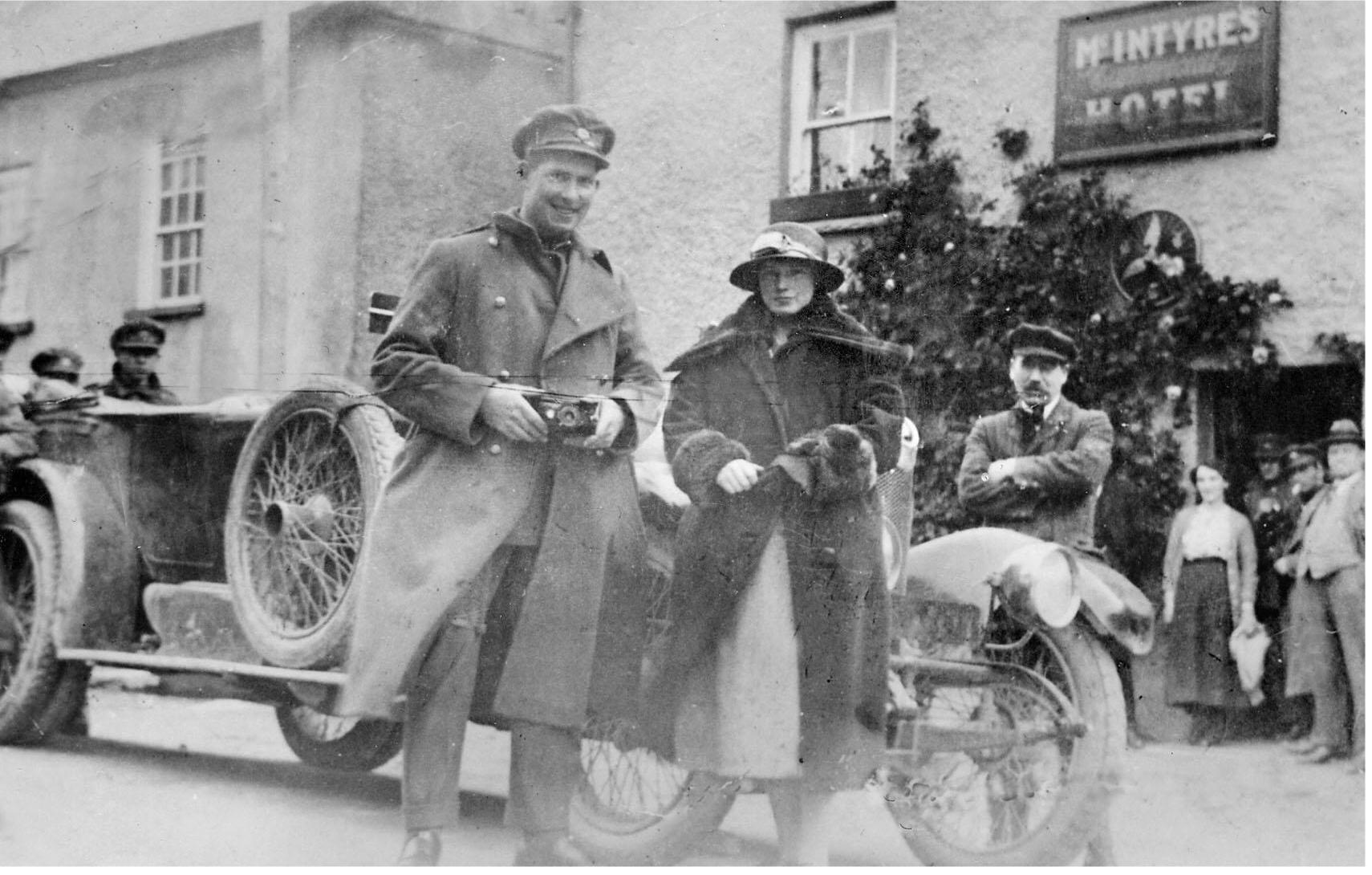 SEAN AND ALICE IN 1923
Sean MacEoin was a military hero of the War for Independence and prominent in the peace which followed. He served in the Dail, as Minister of Justice and of Defense in the Irish Government, and as Fine Gael candidate for the Presidency of Ireland. Known as the "Blacksmith of Ballinalee" because he took over his father's blacksmith shop in Ballinalee when he was 19 to support his mother and siblings when his father died, he devised the "Flying Column" military tactic in which his IRA force massed to attack Royal positions and then quickly dispersed. Attacks were successfully carried out at Drumlish and Ballinamuck Barracks, among other places. MacEoin was captured in a bloody action at Mullingar in April 1921. Although he was unarmed and alone, he was shot trying to escape his abduction from the train from Dublin, and sentenced to death by the British. He wrote this poignant letter to his friend (and classmate at Moyne Latin School) Father Jim Sheridan, a combatant in the Old IRA and a "Flying Column" member who had been ordained and sent to Milwaukee to study theology:
"Dear Jim, Last week I was tried, convicted and sentenced to die three weeks from today. My poor mother was here yesterday to request that my body be turned over to her for Christian burial. They refused and told her that my body would be buried in quicklime in the prison yard. If you write immediately, I will receive your letter before I died. Farewell, Jim. Pray for my soul."
But MacEoin had in Michael Collins a friend who would not abandon him. A most ambitious attempt to rescue him from Mountjoy Prison almost succeeded It involved the capture of a British army whippet armoured car which was driven straight into the jail by the IRA. But the plan failed. Then Collins played his trump card. After the truce was declared in July 1921, Collins led the negotiations in London for the permanent peace. He threatened to break off negotiations unless MacEoin was freed. DeValera, by the way, strongly opposed this move, fearing that it would endanger the peace talks. In August 1921, Sean MacEoin was released by the British and all Free Irish rejoiced.
He married Alice Cooney the next year, and she was at his side through all his campaigns in politics and during his service in the Dail and as Minister, and after he retired to private life in Longford. Sean MacEoin died in 1973.