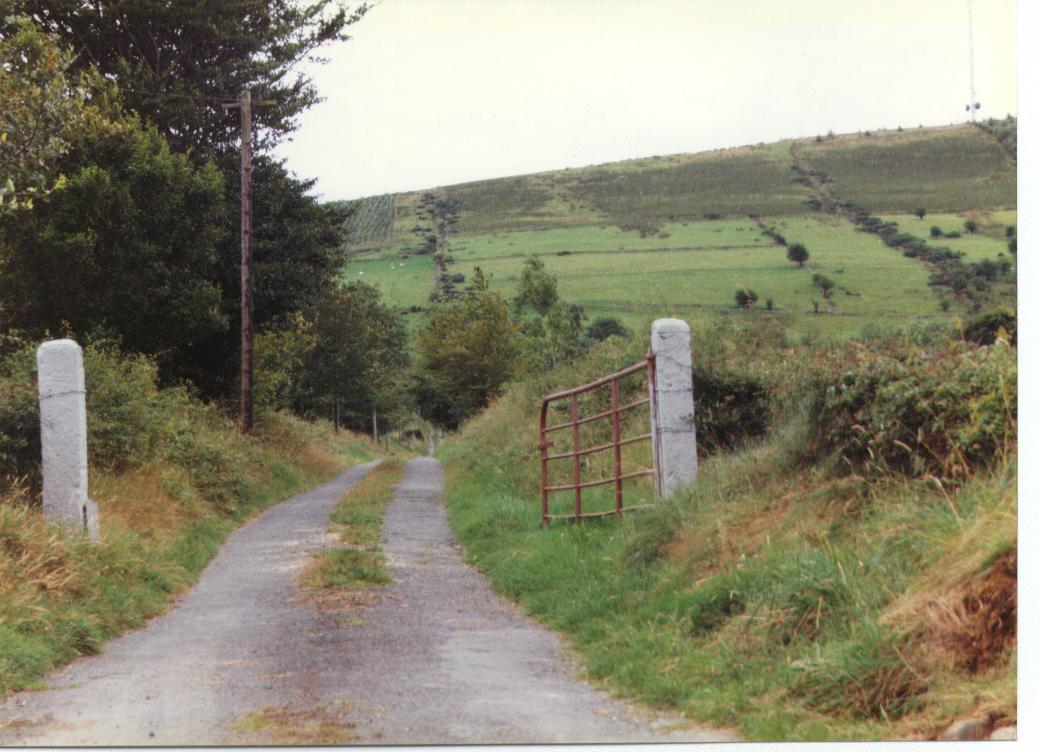 CORNHILL. A tale is still told in Drumlish about the tombstone that Fr. Edward sent from America for his parents after his mother died in 1859. The Drumlish Cooneys went down to Dublin to pick up the stone when it arrived from Rhode Island. They obtained a wagon and horses for the task. On their return, they dropped off the stone at the cemetery, and proceeded to Cornhill. But the wagon did not fit through the gate to the entrance. They unhitched the horses and went up to the farm. The next morning they found that the wagon had been stolen from the entrance! Shown here is the gate at Cornhill.
For an engaging account of a recent visit to Cornhill,
click here
!
PHILIP COONEY, of Dooroc, Longford, is identified on the "1796 Flax List". Accordingly Philip Cooney owned a farm in Dooroc that year and received a bounty from the government to grow flax there. This farm may have been that parcel of land shown as equally divided between John Cooney and Arthur Cooney ten years later, as reflected in the land and tax records of 1806, possibly upon Philip's death. Thus this Philip may have been the father of John and Arthur. Results of further research into this possibility will be posted here.
1.0 JOHN COONEY. 1769-1837. John Cooney is our earliest positively identified ancestor. He married Mary and raised a family in Drumlish. Land and tax records show that in 1806 he and Arthur Cooney (a brother?) each owned a parcel of land in Dooroc, Drumlish, Ireland, of 41 acres each. This may have been the division of a larger parcel of land, possibly the farm of Philip Cooney of Dooroc, revealed by recent research to have been on the "1796 Flax List". It may have been divided between John and Arthur after the death of Philip. In any event, John's property in Dooroc is today a 57 acre farm at Cairn Hill (also called "Cornhill"), and it remained in the family until the 1980's. On this farm were born Ann, Philip, John, Owen and Edward. Of these, John and Owen stayed in Ireland, and Ann and Edward came to America. Philip's disposition is not known. The gravesite of John and Mary is well marked and easily located in the parish of Killoe in Dooroc, thanks to a massive granite monument their son Edward (1.4) arranged and had carved after Mary's death in 1859.
For more information on John's descendants in Ireland, click here, or on the Cooneys in Ireland page in the left margin.
................1.1 ANN COONEY (1810-1898) is believed to be the first-born of John and Mary Cooney. She married a Matthew Gray (1806-1871),possibly from Drumlish. They came to America and are buried in the gravesite of Father Edward J. Cooney (1.4, her brother) in Providence.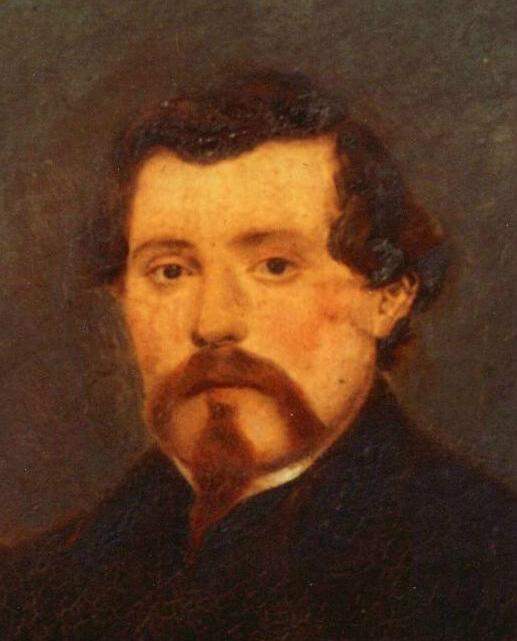 Philip Cooney's son John Patrick Cooney at 38
................1.2 PHILIP COONEY was born about 1817 and married Mary (Murphy). Little has been discovered about Philip and Mary except the baptism in 1838 of their son John Patrick (1.2.1) who left Ireland for America at the age of 19, and was to be the founder of the Rhode Island Cooneys. John Patrick Cooney is shown at the right from an oil painting in about 1876.
Click here
for more on John Patrick Cooney and his family
. Records also document the births to Philip and Mary of Catherine Cooney (born 1839) and Ann Cooney (born 1844), about whom no further information has been found.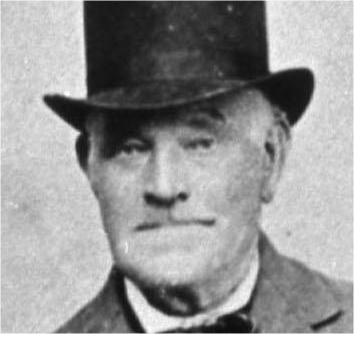 John Cooney at about 60 years of age
................1.3 JOHN COONEY was born in Dooroc around 1825. He married Mary (O'Rourke) and raised his family there. His grandsons would be leaders in the Irish Revolution and after. His great-grandson Patrick Cooney would be a member of the Dail and later, Minister of Justice for Ireland.
Click here
for the wedding of his grandaughter Alice Cooney to Sean MacEoin in 1922.
For more about John Cooney and his descendants in Ireland click here.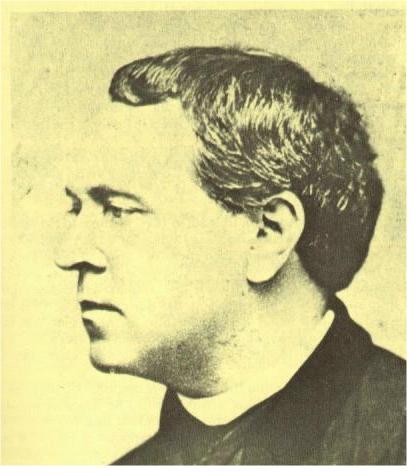 Father Edward at about 40 years old
................1.4 FATHER EDWARD J. COONEY (1823-1878) He came to America at the age of 26 in 1849. He attended Fordham College in New York City, and was duly ordained for the Diocese of Providence, Rhode Island. He founded two parishes there for the Irish who were flooding the country. Immaculate Conception was the first, and later a mission he named for his own patron saint, St. Edward Church. He was known for the energy and enthusiasm he brought to his work, and was also a much loved priest, both by the bishop and fellow priests, and his congregation. Newspaper accounts of his funeral record that his parish was quite devastated by his sudden and unexpected death on Thanksgiving Day, 1878.
Click here
for more about this extraordinary priest, including a moving contemporary account of his Funeral.
................1.5 OWEN COONEY Burial marker in Drumlish shows Owen Cooney as the son of John (1.0) and Mary. 1854 land tax records for the townland of Dooroc, Parish of Killoe, show that Owen Cooney owned a house, offices and land of approximately 30 acres. This may have been the farm originally of Arthur, adjacent to Cornhill. No further information has been discovered about Owen, although his descendants may be among those mentioned in 2.0 below.
2.0 ARTHUR COONEY. Possibly a brother of John (1.0), and owner of adjacent 41 acre farm in Dooroc. (There may have been another brother, Andrew, also resident in Dooroc.) Arthur's farm may have passed to Owen Cooney, who is shown on 1864 tax records as owning 30 acres in Dooroc. Marriage records of Killoe Parish, Drumlish, show numerous Cooney marriages which may be descendants of Arthur or Andrew (e.g., John Cooney married Ann Loughey in 1835; Michael Cooney married Mary O'Hara in 1842; Michael Cooney married Bridget Farrell in 1867; and John Cooney married Mary Anne O'Hara in 1898.)
......................2.1 OWEN COONEY 1854 land tax records for the townland of Dooroc, Parish of Killoe, show that Owen Cooney owned a house, offices and land of approximately 30 acres. This may have been the farm of Arthur, adjacent to John's at Cairn Hill. Possibly a son of Arthur Cooney (2.0), but maybe the Owen Cooney who was the son of John (1.0). His descendants may be among those mentioned in 2.0 above.