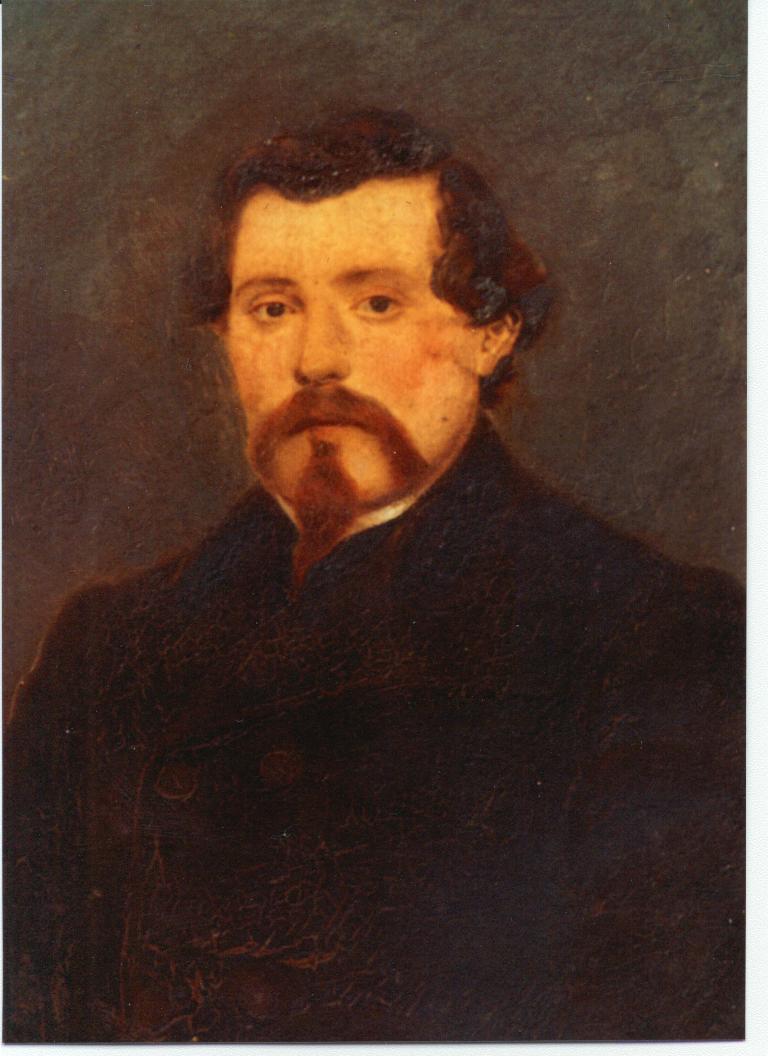 1.2.1 JOHN PATRICK COONEY (1838-1879) Son of Philip and Mary (1.2). The founding father of the Drumlish Cooneys in Rhode Island. He left Ireland and arrived in New York in 1857 at the age of 19 years. He worked two years in the coal mines at Oil City in Pennsylvania, then joined his uncle Fr. Edward J. Cooney in Providence, Rhode Island. He married Ann McCabe and had 6 children, Mary, Edward J., Angela, John Philip, Helen, Catherine and Ann. He prospered in business and public life in Providence. John Patrick Cooney is shown in the oil painting at right at about 38 years of age. An entrepreneur and successful businessman, he started a wholesale liquor business, became a major distributor of beers and ales in the Northeast states, and even started a brewery (Cooney and Hanleys) which proved a very successful enterprise for more than 100 years (as Hanley's after his death).
Click here for more on his business
. Active in politics, he was a delegate to the 1876 Democratic Convention which nominated Samuel J. Tilden for President. Tilden subsequently won the popular vote but lost the Presidency to Rutherford B. Hayes when a special 15 man commission named to settle disputed vote talleys in Florida, Louisiana and South Carolina voted 8-7 in every case, thus giving all the disputed votes and the Electroal College victory (185-184) to Hayes. The deciding vote in each case was cast by Supreme Court Justice Bradley, a lifelong and fanatically loyal Republican and a late appointment to the commission . Subsequently Congress passed legislation giving complete discretion as to disputed vote talleys to State Courts and Legislatures, to ensure that such a scandalous miscarriage of justice would never happen again. John Cooney was also elected to the Providence City Council in 1875, the first Irish American to so serve, and headed the Building Projects Committee of the Council with distinction until his untimely death in 1879. He was eulogized as "one highly esteemed for his business integrity and one also possessing in an eminent degree those social qualities which made him a welcome guest at the fireside." He was 41.

JOHN & ANN (McCABE) COONEY & FAMILY, 1872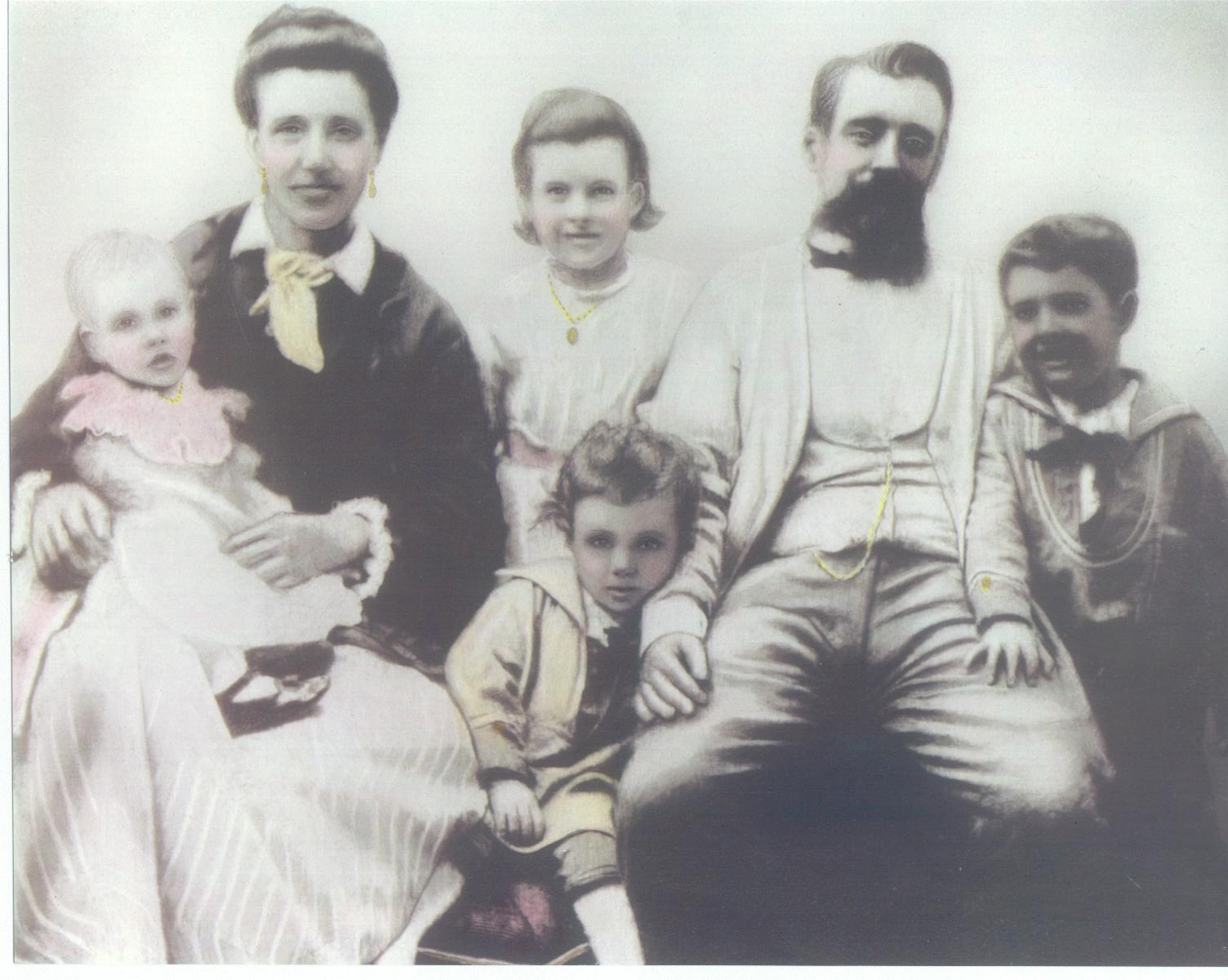 LFT to RT: HELEN, ANNE (McCABE) COONEY, MARY, JOHN , JOHN P. COONEY, EDWARD J.
1.2.1.1 MARY COONEY (1865-1905). Daughter of John Patrick Cooney and Ann McCabe Cooney(1.2.1). She was a teacher in Providence and died in 1905 at the age of 39.

1.2.1.2 EDWARD J. COONEY (1868-1918). Son of John Patrick Cooney and Ann McCabe Cooney (1.2.1). He attended the Dental School at the University of Pennsylvania, married Anna P. Bretten and settled in Brooklyn New York to practice Dentistry and raise his family. He had two children, Angela Cooney and John Philip Cooney and died at the age of 49. (This is a first draft bio sketch and will be amended after contact in made with J. Gordon Cooney Esq., his grandson.) With further information on this branch of the family, we hope to add a Dr. Edward J. Cooney page in the left margin.

1.2.1.3 JOHN PHILIP COONEY (1870-1943). Son of John Patrick Cooney and Ann McCabe Cooney (1.2.1). Holy Cross College Class of 1890, he trained in Medicine at Columbia and Harvard. He married Mary (Minnie) Aloysius Buckley and raised a family of 10 in Providence. He had an active and sucessful Medical practice in Providence for almost 50 years. He died in Providence in 1943 at the age of 72.
For more on this family,
click here
or see the Dr. John P. Cooney page at left.
1.2.1.4 HELEN COONEY (1872-1919) Fourth child of John Patrick Cooney and Ann McCabe Cooney (1.2.1). She married Charles Fanning and named their daughter Ann, after her mother and beloved sister. Helen was musically gifted and became a music teacher. She died at the age of 46. (This is a first draft bio sketch, and will be amended after contact with her grandchildren, Nancy (LaCroix) Walker and Jay LaCroix.) As more information is received, we hope to be able to add a separate page on Helen (Cooney) Fanning and her family.

1.2.1.5 CATHERINE MARIA COONEY (1874-1893) Daughter of John Patrick Cooney and Ann McCabe Cooney (1.2.1). She was known as Kate and as Kathleen, and, tragically, died in 1893 at the age of 18.

1.2.1.6 ANN COONEY (1877-1955) "Aunt Annie", as she was fondly known, was a beloved kindergarten teacher at the Jenkins Street School in Providence. When her sister Helen (1.2.1.4) died in 1919, she looked after her namesake and niece Ann Fanning, and assisted in her upbringing. Aunt Annie was much loved by the extended Cooney family, and she died in 1955 at the age of 78.