1.4.2.4. John Patrick Cooney born 6 September 1890, died 16 July, 1962. Son of John and Bridget Cooney. John is seen at 31 years of age in the Gurteenboy wedding photo, and was to be married himself just a few months afterwards. His wedding to Mary Irene Lennon known as "Maime", took place on February 7th 1923. Maime's parents sold John the Moydow farm when he was getting married, but unfortunately the Fenians burnt the house to the ground before they could move in. They settled instead in
Five of John and Maime's eight surviving children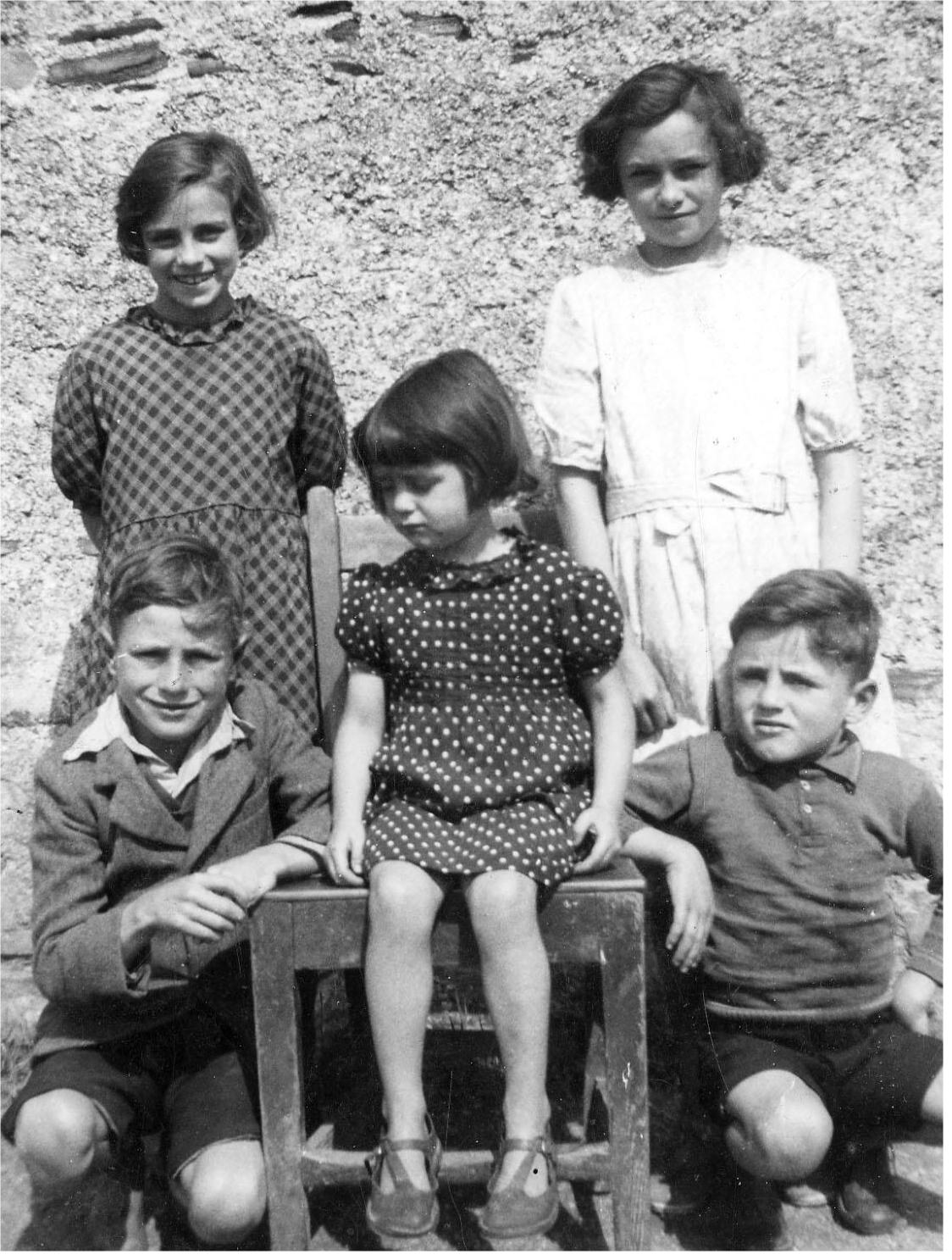 Rear: l to r: Kathleen, Marion; Front: Eamonn, Alice, Tom
Ballintampin, in a single storey house to which John added a second storey to accommodate his growing family. As his and Maime's family grew even larger, more space was needed and the family moved to Sonna, Westmeath. John and Maime had nine children: Sean, Mark, Marion, Kathleen, Eamonn Mark, Patrick John, Tom, Alice, and Bernadette. Maime survived her husband by 22 years, and passed away 3 November 1984, aged 86 years.
..........1.4.2.4.1 Sean Eamonn Gerard Cooney, born November 1, 1923, first son of John and Mary (Lennon) Cooney. Sean married Nora, and they had two children, John and Helen. More will be added to this family sketch in the near future.
..........1.4.2.4.2 Mark Raymond Cooney, born January 27, 1925. Son of John and Mary (Lennon) Cooney. Mark married Margaret, and they raised their three children on the farm at their historic home called "The Hermitage" in Drumlish. Mark and Margaret have three children, John, (who has four children, John David, Aoife and Rachael, and Niamh), Gerard, and Marie-Felice. More will be added to this family sketch in the near future.
..........1.4.2.4.3 Marion Rosemond Cooney, born May 7, 1926, daughter of John and Mary (Lennon) Cooney. Marion James (nee Cooney) born at Ballymacormack, Co Longford. Marion was educated at Mercy Convent and Loretto College, St, Stephens Green, Dublin and trained in Hotel Management. She married Cecil James who was born in Cobh, County Cork in 1927. He attended UCC where he qualified as a Civil Engineer. He had a varied and fulfilling career in engineering, ultimately settling in Zimbabwe (Rhodesia) in 1969 where the family lived happily until his death on 9th December 1998, at the age of 71. He is buried with his parents in the family plot in Cobh, County Cork. Marion and Cecil James had four children, Donal born 31 August 1957, Alan born 19 September 1958, Noelle born 25 December 1961, and Philip born 26 May 1963.
..........1.4.2.4.4. Kathleen Bridget Cooney, born July 4, 1927, daughter of John and Mary (Lennon) Cooney. Kathleen Bridget Wall (nee Cooney)was born at Ballymacormack, County Longford, and educated at the Loretto College St Stephens Green, Dublin from September 1937 to December 1943. A skilled horsewoman , Kathleen enjoyed hunting. Her interests today are focussed on the family, the garden and cookery. She also plays an active role in the Women's group in support of the Church of the Holy Family. Kathleen married Brendan Michael Wall on 9 February 1959 at Kilburn, London, and the wedding ceremony was celebrated by Father John Wall OMI and the Oblate fathers. Brendan was born at Ennistymon, County Clare, and received his education at Rockwell College from September 10, 1942 to October 20, 1945 at Cashel, County Tipperary. Brendan's business career was in sales, and he worked for John Lewis Partnership. He was a skilled golfer and a gifted artist, and a very keen sports enthusiast especially with respect to Rugby (Ireland playing). He was also committed to community social justice issues, and was President of the St Vincent de Paul Society in the area, and a committed volunteer for Westminster Cathedral. Brendan died at home on 24 March 1999 and is buried in Sonna Church, County Westmeath. Kathleen and Brendan have three children: Lorette Marie Wall born 24 October 1959; Margaret Mary Wall born 4 February 1961; and Marion Rose (Wall) Borg born 16 January 1965, who presently resides in Hunsdon, Hertfordshire, UK. with her husband Martin and three children, Joe Carmelo Borg, Daniel Louis Borg, and Liam Michael Borg.
..........1.4.2.4.5. Eamonn Mel Cooney, born November 5, 1928, son of John and Mary (Lennon) Cooney. Eamonn Cooney was born at Ballintampan, Kilashee, County Longford. Eamonn married Nancy Anne Farrell who was born 2 March 1934 in Old Ross, County Wexford. The wedding was held in Chiswick, London on 19 February 1955. Eamonn is a retired farmer and Nancy has retired from her work as a school nurse. Eamonn died at home in November 2002 and is buried in Mullingar. Eamonn and Nancy have four children, Rose Mary (Cooney) Rice born Queen Charlotte's London 14 December 1955, a lifelong horse lover and skilled rider; Catherine Josephine "Jo" (Cooney) Skinner born Queen Charlotte's London 19 March 1957, a principal lecturer (Nursing) at the University of North London; Gregory Cooney born Queen Charlotte's , London 9 February 1960, a professional inspector with Health and Safety Executive London and known as a mean, keen dancer and Rugby fan and a devoted husband and father of four boys; and Bernardine (Cooney) West, married to Jason West, a Royal Engineer. Bernardine is known for her grace and enthusiasm on the dance floor, and for her avid support of Rugby. Eamonn and Nancy have 9 grandchildren at last count, Joseph Patrick Rice, Carmel Frances Rice, Matthew Duane Rice, Thomas Gregory Rice, Mary Ellen rice, Nicholas Gregory Cooney, Philip Gregory Cooney, Christopher Gregory Cooney, and Timothy Gregory Cooney.
..........1.4.2.4.6 Patrick John Cooney born March 1930, son of John and Mary (Lennon) Cooney. John and Maime buried their beloved infant son Patrick with great sorrow when he died 20 February 1931, age 11 months, and he is still mourned to this day.
..........1.4.2.4.7. Tom Gregory Cooney born November 17, 1931, son of John and Mary (Lennon) Cooney. Tom resides in Sonna, Slanemore, and more will be added to this sketch in the near future.
..........1.4.2.4.8. Alice Philamena Cooney born 15 August 1933. Daughter of John and Mary (Lennon) Cooney. Alice Murray (nee Cooney) was born at Mullingar, County Westmeath. Alice was educated at La Sant Union, Alton and Sacred Heart Convent, Dublin Her interests are the family, sewing and cookery. She plays an active role in the lay leadership of Saint Theresa's Catholic Church in Sugar Land, Texas. Alice and Thomas Terence Murray married on 8th April, 1961 at Donaybrook, Dublin, at a wedding ceremony celebrated by Fr. Mark Mimnagh at the Church of the Immaculate Conception. Terry Murray was born February 10, 1925 at Cork, Ireland and educated at Christian Brothers School, Cork City; Castle Knock College, Dublin; and the University of Cork. He qualified as a Civil Engineer and was employed worldwide in engineering projects with Bechtel Corporation and Brown and Root. He travelled extensively in Europe, North America, Asia and Africa. Terry died on 31st July 1984 at 59 years of age, and is buried in Forest Lawn Cemetery, Richmond, Texas. Alice and Terry have three children: Eilis Mary (Murray) Meyer born 18 August 1963 at Cork, Ireland, retired from mortgage banking with the birth of her children, presently residing with her husband Dave and family in Sugar Land, Texas; Frederick John Murray, born 24 July 1967 at Cork, Ireland, presently residing with his wife Kristin in Houston, Texas where he works as a sales representative in technology and communications; and Paul Terence Murray born 24 September 1971 in Marin County, California, currently on active duty in the U.S. Coast Guard, Petaluma California. Alice and Terry have three grandchildren as of this writing; Christopher Paul Meyer born 5 January 1990, Kevin Terence Meyer born 5 January 1990, and Kathleen Elizabeth Meyer born 29 June 1994
..........1.4.2.4.9. Bernadette Cooney born 1936. Daughter of John and Mary (Lennon) Cooney. Bernadette married Paul Killian and they have two children: John Killian, and Helen Killian. More will be added to this family sketch in the near future.